We have highly trained therapists in all areas of tinting, waxing and eyelash extensions. With several of therapist been on extensive training courses in this very precise treatment.
Lash lift is the revolutionary lash treatment that creates masses of length, volume and lift with your own natural lashes. A perfect way to enhance what you already have, whether your lashes are long, short, thick or stubborn. This treatment will create the look of longer, fuller lashes that make your eyes appear more open and youthful as well as saving time in your morning routine
(includes a tint) - £40.00
Ultimate lash lift package
This amazing package includes airlift lash lift and our signature Mayamy brow lift/fluffy brow.
RRP £80.00 NOW £65.00
lash extensions
The main benefit of semi-permanent lashes is that they create a naturally beautified look (depending on the style you opt for). So they're perfect for clients with busy schedules who want to look made up without spending hours in the morning. Semi-permanent lashes also last a lot longer than you might think. Their lifecycle is very similar to your clients' natural lashes, so we're talking about six to eight weeks, after which the lashes will have mostly fallen out.
Semi-Permanent Eyelashes
These light, comfortable and natural looking eyelash extensions are available in a variety of curls, lengths and thicknesses, ideal for creating the look you want. ... To keep them looking fabulous for as long as possible, we recommend eyelash infill maintenance every two to three weeks
Full set - £60.00
express set - £37.00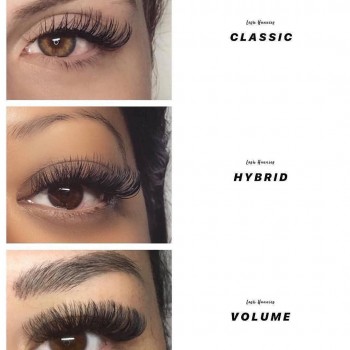 (Infill within 1 week) - £32.00
(Infill within 2 weeks) - £43.00
(Infill within 3 weeks) - £53.00
Semi-permanent lash removal - £10
semi- permanent Hybrid Lash Extensions
Hybrid Layering is a technique that involves mixing classic and volume lashes adhering synthetic, ultra-fine lashes onto a single natural lash to create a voluminous yet lightweight look.
Full set - £70.00
(infill within 1 week) - £33.00
(infill within 2 weeks) - £45.00
(infill within 3 week) - £56.00
Volume Lash Extensions
Russian Layering is a technique that involves adhering synthetic, ultra-fine lashes, supplied on a strip, onto a single natural lash to create a voluminous yet lightweight look.
full set - £85.00
(infill within 2 weeks) £45
(infill within 3 weeks) £54
HD Brows
(loyalty card given, mandatory tint test required for first tint)
The HD Brows procedure transforms the way you look and more importantly, how you feel. This is a 7-step eyebrow shaping treatment that focuses on shape and design. Unlike other eyebrow treatments that use a 'one shape fits all' technique, HD Brows stylists assess face shape and colouring before creating a bespoke brow.
includes a tint - £28.00
Bronsun Hybrid Brows
The perfect tamed and polished brow treatment that EVERYONE wants! A hybrid tint can last up to 7 weeks on hair and up to 14 days on skin, Colours are
bespoke
mixed to match your skin and brow tone and includes measuring and waxing/shaping. Perfect for those looking for brow definition.
Includes a tint & shape - £34
Brow Lamination
Brow lamination gives a fuller, fluffier looking brow. Completely customisable. Can be as fluffy or as structured as you like! Creating fuller, beautiful brows that lasts 6-8 weeks.
Includes a tint & shape - £40
The Ultimate eye lift- Brow lamination & Lash lift combo (mandatory tint test with first tint and if not been tinted within 6months). (includes tint)
£59